The Critical Research Journal accounts for 

10% of the final grade for the FMP module. It will be assessed on the following Learning Outcomes:

LO3     Critical Contextualization of Practice
Apply a critical awareness of the diversity of contemporary photographic practice to the development of your own work, and inform your practice through historical, philosophical, ethical and economic contextualization.
LO4     Professional Location of Practice
Establish an understanding of the range of professional contexts for the dissemination and consumption of contemporary photographic practice, and identify opportunities to engage with audiences and markets.
LO5     Critical Analysis
Make personal observations and form critical opinions to analyse and appraise your own work, as well as the work of your peers and other practitioners
LO6     Written and Oral Communication Skills
Articulate ideas in a range of formats and contexts, and be able to communicate with different audiences.
LO7    Scholarship
Develop your photographic practice through the synthesis of practical work, contextual research and professional activities, and with the integration of other disciplines.
I have Two sections to my Critical Research Journal. This section and Project Development FMP. 

https://littlegemsphotography.blog/project-development-fmp/

 
January 2020
Metallic Nature
https://www.gemmaryder.com/#/metallicnature/
Working project title:
Metallic Nature collection has been inspired by the natural element of metal and the relationship of nature and man-made. The use of metals for making cast sculpture is very ancient and by tradition a sculptural medium. I have used organic forms to create natural sculptures to highlight the natural beauty around us, as well as exploring the sunning colours of metals.
I know analysing your own and others work is a positive thing which I will be doing in more detail over my FMP.
How to Analyse A Photograph:
Composition
Substance
Lighting
Techniques
Editing
opinions
http://curkovicartunits.pbworks.com/w/page/49963352/Analysing%20an%20Image
Still life
Still Life
https://www.gemmaryder.com/#/still-life/
Harold Ross
Example Harold Russ
https://lens.blogs.nytimes.com/2012/01/05/with-light-sculpting-a-photograph/
A Still Life Lighting Animation
This image is part of a animation to see how light plays a important role when taking photographs of till life. The animation is taken from cameras point of view.
There are two pencil sharpeners in this image; the small green one on the left has such an unusual shape, and I love the colour. The larger sharpener was given to me many years ago by my father, and although it's just an object, it's a sentimental one which I've photographed before. It really is a small machine (and it has gears!), and I admire the thought that went into its design.
https://haroldrossfineart.wordpress.com/2016/11/26/a-still-life-lighting-animation/
What is my first impression?
What captures my attention?
What does this work bring to my mind?
How does this work make me feel?
What does this work remind me off?
A very clean and neat image with strong contrasting colours and reminds me of a painting. Rich in colour and depth.  I like the contrasting between the brown bottle again vibrate green. The overall theme are objects which are needed to draw or write with. I like the texture in the background again the smooth reflective surface of the glass bottles. Also, the background colour selected isn't overwhelming or distracting from the main focus of the object on the wooden table. It doesn't make me feel anything in particular but more curious about why the objects have been selected. I do wish to explore the green tones with the glass bottle which really jumps off the page. Also, the use of a yellow pencil which is resting against the pencil sharper which stands out too.
February 2020
Sustainable art is a movement whose aims are to ignite discussion (and adjust our perception) about the way we use our resources. Sustainable art seeks to make us think more deeply about the impact that our lifestyle choices have on the planet.
Artists for Conservation is a group of artists who, in various ways, support nature through their artwork. They paint nature in art in the form of beautiful and idyllic images of animals and landscapes. In addition, they also donate a portion of their art sales to conservation efforts.
Nature in Art is a British museum devoted entirely to artwork inspired by nature. They have an extensive collection of artwork covering a 1500 year time period, representing over 60 countries and cultures. In addition to their permanent collection, they have special exhibitions as well as classes and events for adults and children.
https://www.art-is-fun.com/nature-in-art
Signs, Symbols and Dreams
https://www.gemmaryder.com/#/mood-of-the-sea/
Dungeness Isolation
Black and White Photography Nature
Feathers, Textures, Colours
https://www.gemmaryder.com/#/feathers/
March 2020
The start of the COVID 19 pandemic lockdown on 28th March 2020Schedule:
This was a schedule for my FMP and now I will have to change some elements of my plan and project.
Old Project Description:
My Final Major Project is a practical investigation to discover the beauty and sublime elements of nature and the extraordinary link between nature and our emotions, spiritually, mentally and physically. My style of photography is under three genres, Macro, Fine art and Still life, which are all related to the theme of nature.
New Project Description:
My Final Major Project is a practical investigation to discover the beauty which is within my local environment, the Kent area. I am fascinated by Nature in Art History and the wide genres which are associated with nature, landscape, seascapes and Skyscapes. Kent is such a diverse county from coast to country scenery and best known for being the Garden of England. The title of my project will now be call Land, Sea and Sky and the art found in nature. I wish to highlight the beauty which is all around us and often taken for granted. This is a result due to the lockdown and how we have all grown to appreciate the freedom we had and now are open up to exploring what is and always been on out front door.
Seascapes
Seascapes refer to art works that depict the sea. These works may be paintings, etchings, engravings, or even photographs. While some people may refer to the portrayal of the sea as Marine art or Maritime art, the term seascape is most commonly used to suggest the marine genre. The term begun around the year 1790 and was modelled after the term landscape. Seascapes typically show views at sea or views from the shore. The ocean, beaches, coastlines, ships at sea, nautical image these elements make up seascape art works. Strictly speaking, reference to Maritime Art not only reflects the sea, but human interaction with it, these works would include eg ships. Marine art, on the other hand, refers to works that simply reflect the sea or coasts of the sea. The term seascape popularly refers to both Maritime Art and Marine Art. Interestingly, reference to the term seascape refers to the subject of the art work–not the medium used or style employed by the artist. While the term seascape became popular between 1790 and 1800. Throughout time artists have been inspired by the sea and have created works to capture it on rock walls, paintings, etchings, pottery, and even tapestries. Early works, for example, like Odysseus and the Sirens, dates to 480 B.C. in Greece. Artists have created seascapes by employing a wide array of artistic styles such as Realism, Romantic Art, Impressionism, and Modernism. Seascapes have been a popular genre of art particularly from 17th through 19th centuries. Dutch artists became particularly associated with seascape paintings, though maritime nations like England with its vast navy and their artists also favoured seascapes.
https://www.lightstalking.com/history-landscape-photography/
Woods and Forest
Compositing In Photoshop
ManMade Structures In nature
Local Area
Wide Angle Lens
Artist and Photographers:
Landscape in Art History:
The word "landscape" was only introduced into the language purely as a term for works of art around the start of the 17th century. But Landscape used in art existed along time before that for example In Western art, the earliest extant of a painting of the landscape is a fresco in Akrotiri, an Aegean Bronze Age settlement on the volcanic Greek island of Santorini. The painting was beautifully preserved under volcanic ash from 1627 BC until about 50 years ago.
The "Spring fresco" of Akrotiri, Santorini
Our appreciation of nature for its pleasure and its selection as a specific subject for art is a relatively recent experience. Until the seventeenth-century landscape was restricted to the background of portraits or paintings dealing mostly with religious, mythological or historical subjects. landscape painting is a highly popular artist genre present in many cultures and artistic traditions with a long and established history. Landscape painting encompasses a variety of natural scenes including mountains, rivers, valleys, forests, fields, and coasts. This definition was expanded in the 20th century to include urban and industrial landscapes. Landscape painters are inspired by the world around them and while landscape paintings are principally figurative, there is a growing tradition of abstract landscapes that developed from the middle of the 20th century onward. Generally speaking, artists depict a landscape to capture its beauty, or to make a comment on the relationship between man and the environment. Today, the landscape continues to be a major theme in art with many artists using documentary techniques such as video, photography and classification processes to explore the ways we relate to the places we live in and to record the impact we have on the land and our environment.
Landscape Painting in Europe:
There is some evidence of tradition landscape art in Ancinet Greece and Rome but often also include other elements. The first true Landscape in western Art History dates from the 16th Centuary by Albrecht Altdorfers's Footbrifg
During the Renaissance period, landscape painting developed as  significant artistic genre. From Italy, the genre spread and French artists such as Claude Lorrain and Nicolas Poussin, the began to dominate the art world. Early European landscapes were highly stylised works that duplicated the landscapes of ancient Greece and Rome were known as the 'classical landscape'. Meanwhile, remarkable Dutch painters in the 17th century began to develop a more naturalistic style example as can be seen in the landscapes of Aert van der Neer.
Aert van der Neer – Moonlit Landscape with a View of the N… | Flickr
In the seventeenth century the French academy classified the genres of art, placing landscape as fourth of fifth in order of value. This ranking demonstrated the moderately low regard humanity had for the landscape at the time. However, in the eighteenth century, the genre of landscape painting truly came to realisation due to two main elements in history, the idea that nature was a direct demonstration of God on earth and the extensive industrialization and urbanization of much of Western Europe during the industrial revolution. The revolution had distanced the population from nature, creating a desire to celebrate nature in all its beauty. Two masters at the time dominated the landscape, were John Constable and J. M. W. Turner.
The Fighting Temeraire – Age of Revolution
Meanwhile, in France, The Impressionist painters continued this trend and added their own flair to the genre. Artists such as Manet, Monet and Renoir took a purposefully informal approach, blurring the lines between sketches and finished pieces.
Today in the post-modern art world, art is more accepted in all forms especially when it comes to Landscape. Artist today are still inspired by the weather, surrounding environment and scenery. The portrayal of the landscape is emotional, beautiful and yet can be dangerous.
Mass production, the camera, and a return to nature.
In the first years of the nineteenth century, a chain of mechanical inventions transformed the course of human culture instantly and permanently. James Watt's created a new form of steam engine, powering factories and launching international travel with more efficient steam ships. Eli Whitney's cotton gin and Edmund Cartwright's power loom created a massive textile boom, with exponentially faster production leading to a commoditization of a previously craft culture. Benjamin Huntsman's crucible steel and James Neilson's Hot blast furnace would make iron and steel the building materials of choice and the era of the skyscraper.
Production and mass production comes from the ability to make things faster and cheaper. With industrialization, factories, smokestacks, towers, cranes, and trains became the icons of the landscape. Terms like "a work week" and "time off" describe the shift from self-sufficiency on a plot of land to working for an entity that produced goods. The Industrial Age shifted culture from farming to one of industry and output.
But as the factories filled the artists practice was permanently changed by a very simple invention. In 1843, John Goffe Rand invented the tin paint tube, when before paint was mixed in the studio and dried out quickly, preserving the paint in a tube allowed artists mobility for the first time. So, paradoxically, while the Industrial Revolution drew millions into cities and urban centres, it sent artists outside. The birth of Romanticism, Impressionism and the Hudson River School were dedicated to the majesty of nature. With travel more affordable via steamship, artists travel around the globe, leading to the first blending of cultural style and influence, but it would take nearly a hundred years and a world war to teach artists to embrace industrialization.
Artist and Photographers:
John Constable: (1776–1837)
John Constable was largely self-taught and is famous for his landscapes, which are mostly of the Suffolk countryside, where he was born and lived. He made many open-air sketches, using these as a source for his large exhibition paintings, which were worked up in the studio. His pictures are extremely popular today but were not well received in England during his lifetime. He did, however, have considerable success in Paris. Constable was influenced by Dutch artists such as Jacob van Ruisdael, Peter Paul Rubens and Claude. Constable developed a unique style combining objective studies of nature with a deeply personal vision of the countryside around his boyhood home. While most landscape artist of his day travelled far in search of picturesque or sublime scenery, Constable never left England.
Constable Cloud studies which are celebrated today were not exhibited in his lifetime. Painted rapidly, wet-in-wet, Constable used short strokes and a restricted colour palette to train his hand and eye and to enhance the realism of his later paintings. He labelled almost all of these images with scientific precision, indicating the date, time, wind, and weather conditions under which they were painted.
Cloud Study: Stormy Sunset 1821-1822 oil on paper on canvas
John Constable in the early 1820s produced a studied of the changing weather. He took a more scientific approach towards painting cloud formations as it was an open space with a wide expanse of sky. At this time Constable deepened his scientific knowledge of the weather by reading published pamphlets such as 'Essay on the Modification of Clouds' (1803) by Luke Howard and 'Researches about Atmospheric Phenomena' (1815) by Thomas Forster. Constable improved his artwork by painting in the same place at different times of the day or in different weather conditions. He would return on numerous occasions to his favoured locations such as Hampstead, Salisbury Cathedral and Dedham Vale – all of which featured in 'Observing the Weather', and quickly sketch the same landscape to demonstrate the dramatic effect differing conditions have on light and colour.
https://www.youtube.com/watch?v=fpeCxHPA1y0
Clouds
Sky Above Clouds IV
When Georgia O'Keeffe was in her 70s, she took an aeroplane for the first time and found herself confronted with the fascinating view of earth from the sky, above the clouds. This inspired her to create a series of paintings around the theme of clouds, that she worked on from 1963. Her work is largely the expression of her deep connection with nature and the landscape through her personal, abstract, visual language. The lovely panorama depicts clouds as both natural phenomena and poetic evocations of limited freedom and tranquillity. So why are clouds important within the landscape Art world? They add drama and explore the changing weather above the landscape. Clouds are part of the endless common exchange between the unearthly and the earthy. moving between formlessness and form. They hover between heaven and earth, spiritual and physical in the world. I remember when I will little looking up to the sky and creating images from the clouds, I sure everyone has done this. I also think they are taken for granted and their beauty is overlooked. It takes art and photography to highlight what is above you.
Solitary
https://www.gemmaryder.com/#/solitary/
Trees in Art
https://arthistoryproject.com/subjects/nature/trees/
A Wheatfield, with Cypresses (September 1889)
Vincent Van Gogh, 1889

Abbey among Oak Trees
Caspar David Friedrich, 1809-1810

Apple Trees in a Meadow
Edward Mitchell Bannister, 1890
Mont Sainte–Victoire and the Viaduct of the Arc River Valley
Paul Cézanne, 1885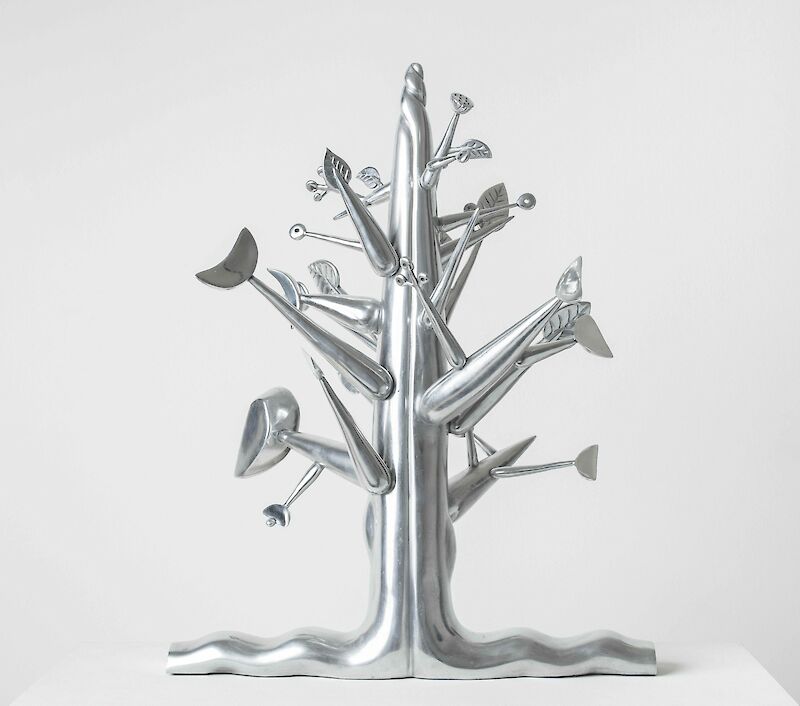 Meditation Tree
Ibrahim El-Salahi, 2018
Trees in Photography.
I cannot think about the land without including trees. When I was younger I had a deep forest right on my doorstep which today has slowly been taken over by new builds. Tree evokes a sense of wonder and mystery. They symbolise wisdom, growth, change, strength and age. Trees have been a subject for many artists who have chosen to study and when you think of nature you cannot help but connect trees to the visual of nature. Trees can be subject on their own or within the landscape or even in relationship to urban settings. As living things, they also mirror our character and moods and exist like us as both individuals and in communities. Trees happen to be one of the first photographic subjects alongside photographs of architecture and fine and decorative art objects. Trees are a living reminder of the past and often identified with notable people and events or circumstance.
Clarence Hudson White (1871-1925) Spring Morning 1905 20.3 x 15.5 cm
The tress has taken centre stage as an emblem of new life in this symbolic picture about creative growth and change. The river on the left-hand side of images and the women dressed in white act as light framing device, flanking its dark form. The women figure holds a globe which could suggest she stand by mother nature. The image is dreamy and out of focus which was the characters of the pictorialism movement at the time. I like how the image has been taken in the portrait dimensions to capture the length of the
tree.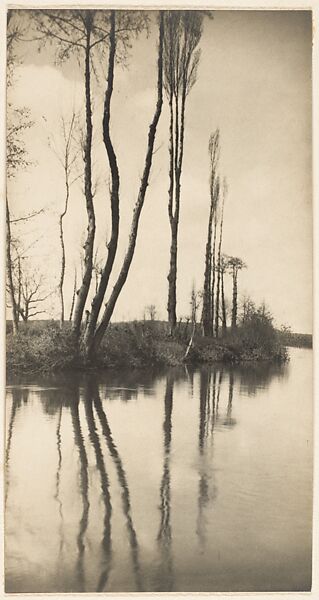 Frederick H Evans (1853-1943)
On a French River
Evans is mainly known for his photographs of Gothic Cathedrals. Evans believed that all-natural things had a direct connection to spiritual qualities and were symbols of deeper truths. I love the reflection in the river and how he has not cropped them out. They remind me of the figures standing by the riverside.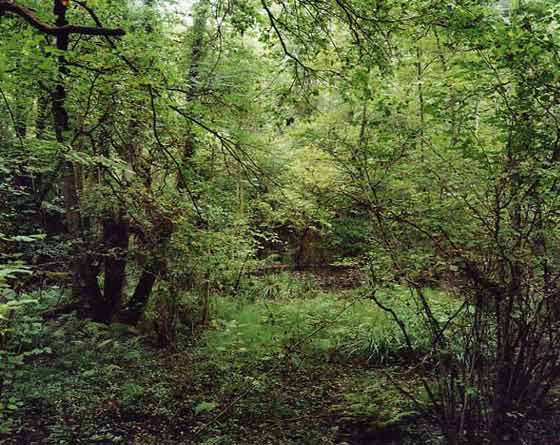 Jem Southam
'The Painter's Pool, 29 September 2002'
From the series The Painter's Pool
Photograph
Width 24 cm x height 19 cm
© Jem Southam
Jem Southam, born in Bristol in 1950 he is celebrated for his series of colour landscape photographs, which started in the 1970s and continuing until the present. He patiently observers change at a single location over many months or years. Southam's subjects are mainly situated in the South West of England where he lives and works. He observes the balance between nature and man's involvement and traces phases of decay and renewal. Southam uses a large format camera to produce 8 x 10-inch (20.5 x 25.5 cm) negatives that record a high level of detail. C-type prints are made from these. When the pictures are enlarged from the negatives, under supervision at a commercial lab, they reveal an entrancing wealth of information.  I often revisit a location and would like to explore how time and interactions can change the environment.
Hedgerow Trees, Clerkenleap, Worcestershire, photograph, albumen print from calotype negative, by Benjamin Brecknell Turner, 1852 – 1854, England Museum.
http://collections.vam.ac.uk/item/O75320/hedgerow-trees-clerkenleap-worcestershire-photograph-turner-benjamin-brecknell/
Impressionist Art
A group of artists who became known as the Impressionists did something pioneering which now would seem a standard thing to in this era. Within the era, there was only one authorized state-sponsored exhibiting, called the Salon. For most of the nineteenth century, the Salon was the only way to display your work and therefore the only way to establish your reputation and generate a living as an artist. The works exhibited at the Salon were selected by a jury, which could often be quite subjective. The Academy deemed that only "history painting" was great painting. These young Realists and Impressionists questioned the long-established of the subject matter. They believed that landscapes and genres scenes (scenes of contemporary life) were worthy and important.
The artists we know today as Impressionists, such as Claude Monet, August Renoir, Edgar Degas, Berthe Morisot, Alfred Sisley (and several others) could not afford to wait for France to accept their work. They all had experienced rejection by the Salon jury in recent years and felt that waiting an entire year between exhibitions was too long. They needed to show their work and they wanted to sell it. The artist put their money together and rented a studio that belonged to the photographer Nadar and set a date for their first collective exhibition. They called themselves the Anonymous Society of Painters, Sculptors, and Printmakers and their first show opened at about the same time as the annual Salon in May 1874. The Impressionists held eight exhibitions from 1874 through 1886.
Key Elements for Impressionist Art:
They worked fast to capture the effect of movement.
They worked mostly outside.
Did not blend their marks together
The use of contrasting colours
Did not use black
Tried to capture the effects of light.
The paintings of Neoclassical and Romantic artists had a finished appearance. The Impressionists' completed works looked like sketches, fast and preliminary "impressions" that artists would rush off to preserve an idea of what to paint more carefully at a later date. Normally, an artist's "impressions" were not meant to be sold but were meant to be aids for the memory to take these ideas back to the studio for the masterpiece on canvas. The critics thought it was ridiculous to sell paintings that looked like slap-dash impressions and to present these paintings as finished works. In their landscapes and genre scenes, the Impressionist tried to preserve a particular moment in time by identifying specific atmospheric conditions eg light flickering on water, moving clouds, a burst of rain. They painted small marks of pure colour one next to another and when a viewer stood at a reasonable distance their eyes would see a mix of individual marks and colours that had blended optically. This method created more vibrant colours than colours mixed as physical paint on a palette. An important aspect of the Impressionist painting was the appearance of quickly shifting light on the surface of forms and the representation of changing atmospheric conditions. The Impressionists wanted to create an art that was modern by capturing the rapid pace of contemporary life and the fleeting conditions of light.
Claude Monet, Impression, Sunrise, 1872
The focus of this painting is almost entirely on colour and light. The brushwork is loose, the detail is modest, and the composition is fairly straightforward, but the use of colour to represent light is adequate to make this painting work. Most of the painting is made up of gloomy oranges, blues and greens, which form the backdrop for the dark green boats and the vivid orange sunrise. In my opinion, the most attention-grabbing part of the painting is the use of vivid orange to paint light. The sun and its reflections jump out from the rest of the dull tones. The brushwork is relaxed and confident as if Monet painted this without hesitation. There is a contrast between the thin paint used for the background and the thick, impasto paint used for bold inflexions (the boats, the sun and its reflection)
Composition
The composition is fairly straightforward, but there are some important characteristics:
The focal points are the dark boats, the sunrise and its reflection. Everything else is just there to create a sense of environment and atmosphere.
The focal points are situated off-centre around the middle.
There is a fascinating clash between light and dark where the sunrise reflection meets the dark green shadows. The sunrise reflection represents a strong vertical line in the painting, despite it being made up of short, horizontal dashes. The dark green shadows in the foreground are spaced out and as a whole, represent a loose horizontal line.
The horizon line barely exists. There are just some buildings and faded blue shapes in the distance which suggest where land meets the sky.
The horizon line is positioned slightly above the centre. Many artists avoid placing the horizon line directly in the centre as it tends to appear unnatural.
Depth is created by the gradual fading of objects as they recede into the distance. Also, the relatively cool colours used around the horizon line push that area back in perspective, whilst the warm colours used for the top of the sky come forward.
Artist and Photographers
May 2020
Landscape Photographers:
https://www.photoblog.com/learn/best-landscape-photographers/
Valda Bailey
With a background in painting, Valda's approach pushes at the boundaries of landscape photography. Making creative use of multiple exposures and intentional camera movement she focuses on details in the world around us to create impressionist imagery.
Erin Babnik
Starting out as an art historian, using photography for the purposes of teaching and research, Erin now uses these skills to focus on wilderness photography. Her images have a wonderful graphic quality to them and she's not afraid to focus in on smaller details too.
Saskia Boelsums
https://www.saskiaboelsums.nl/
Saskia's work is very reminiscent of Dutch old master paintings. They have such a sense of drama and texture about them that I want to reach out and touch them for a more immersive experience.

Dutch old master paintings of the landscape.
Seventeenth-century Netherlanders had a thirst for portrayals of the city and countryside, either real or imaginary. Local scenery asserted Holland's national pride, while outlooks of foreign sites recalled the amount of its overseas commerce. Holland's ocean ports were over crowded with fishing and trading ships, and the tiny country's merchant fleet was almost as large as all the rest of maritime Europe's combined Much of the Netherlands is a low marsh formed by the channels of the Rhine and Maas rivers. A third of the country was actually below sea level, reclaimed behind dikes and drained through pumps run by windmills. In such a flat environment, the horizon seems to lie below one's feet; so, the sky overhead dominates the view. A quality that sets Dutch landscape paintings apart from those of other nations is the amount of space devoted to the moist, ocean air and the sun glowing through the ever-present clouds. With their emphasis on atmosphere, Dutch landscapes might better be called "sky-scapes."
Skys In Art
Starry Sky, Attempt
Wenzel Hablik, 1909
Double Exposure
My back Garden
June 2020
Landscape Sunsets
Riverside
Clouds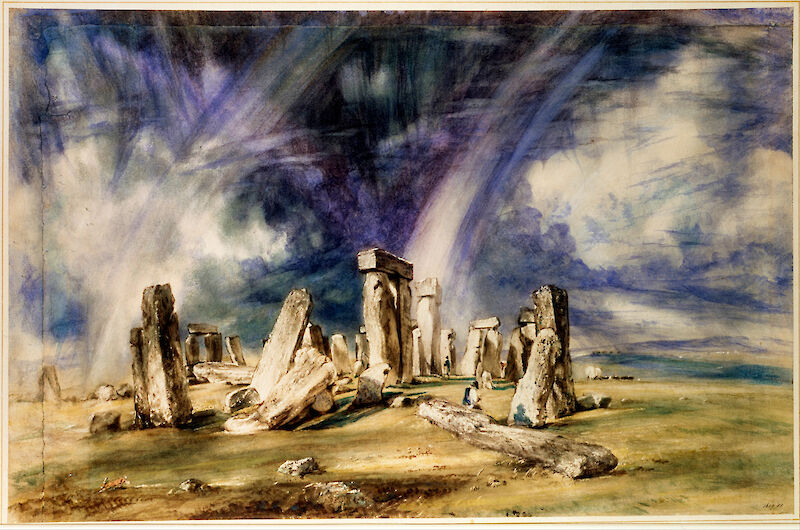 Stonehenge
John Constable, 1835
https://www.metoffice.gov.uk/weather/learn-about/weather/types-of-weather/clouds/cloud-names-classifications
The classification of clouds into types was first proposed by Luke Howard in 1802 which is still used today.  Clouds are arranged into three main types – stratus, cumulus and cirrus. Clouds are frequently changing and appear in an assortment of forms. The classification of clouds is based on a book written by Luke Howard, a London pharmacist and amateur meteorologist, in 1803. His book, The Modifications of Clouds, named the various cloud structures he had studied. The World Meteorological Organization (WMO) has extended Luke Howard's classifications to make 10 main groups of clouds, called genera. These are divided into three levels – cloud low (CL), cloud medium (CM) and cloud high (CH) according to the part of the atmosphere in which they are usually found.
Cloud level (ft)
Cloud type
High clouds (CH)

 

Base usually 20,000 ft or above, over the British Isles

Medium clouds (CM)

Base usually between 6,500 and 20,000 ft over the British Isles.

Low clouds (CL)

Base usually below 6,500 ft over the British Isles.
Names for clouds
Most of our names for clouds come from Latin and are usually a combination of the following prefixes and suffixes:
Stratus/strato = flat/layered and smooth
Cumulus/cumulo = heaped up/puffy, like cauliflower
Cirrus/cirro = high up/wispy
Alto = medium level
Nimbus/Nimbo = rain-bearing cloud
Where these names are combined, we can often build up an idea of that cloud's character. For example, if we combine nimbus and stratus we get 'nimbostratus' – a cloud which is flat and layered and has the potential for rain.
An idea for the name of my project:
Nubibus is the Latin word for Clouds.
Orbis Terrarum is the Latin word for landscape
Nubibus is the Latin Word for Clouds



Appendix 1 - Etymology of latin names of clouds
Special clouds
https://cloudatlas.wmo.int/en/appendix-1-etymology-of-latin-names-of-clouds.html
Isle of Grain
Sustainable art is a movement whose aims are to ignite discussion (and adjust our perception) about the way we use our resources. Sustainable art seeks to make us think more deeply about the impact that our lifestyle choices have on the planet.
Artists for Conservation is a group of artists who, in various ways, support nature through their artwork. They paint nature in art in the form of beautiful and idyllic images of animals and landscapes. In addition, they also donate a portion of their art sales to conservation efforts.
Nature in Art is a British museum devoted entirely to artwork inspired by nature. They have an extensive collection of artwork covering a 1500 year time period, representing over 60 countries and cultures. In addition to their permanent collection, they have special exhibitions as well as classes and events for adults and children.
Andy Goldsworthy:
Goldsworthy is interest in nature, the cycles of the seasons, and the outdoors. While in school he discovered his preference for creating art outdoors rather than in the studio. He began to make temporary site-specific works with stones, leaves, sticks, snow, ice, and any other natural materials available to him. Some of his earliest works were rock sculptures at a beach near his art school. He also established the practice of photographing his works once he had completed his art and before the materials and structure typically arches, cones, stars, spheres, or serpentine line succumbed to the elements. It is immediately evident that Goldsworthy's works, in general, strongly accentuate texture and shape. Goldsworthy describes the working process as a tactile expression, implying the involvement of a multi-sensory extension of the body, a recurring artistic intention, especially through cues signifying touch and vision. His work is temporary and is not going to last forever. Andy Goldsworthy uses photography to document his artwork and his way of reflecting on what he has to made. The rise of earth art in 1960 Is sometimes associated with an increasing awareness of environmental issues. Most artist, however, was attracted to earth art as part of a desire to escape the gallery system and the communication of art objects.
July 2020
Brief:
My FMF is called The Art in Nature, Land Sea and Sky which explores the Art within the Landscape to create an emotional attachment and appreciation to the environment around you.
Title
The Art of Nature. Land, Sea and Sky.
Nature is both all around us and deep within us. We are attached to nature, our bodies, lives and minds depend on the air we breathe and the food we eat. The earth sustains our very life force. As an Art and Photography Teacher, both topics and very important to me and I cannot help but view the world around me in a different light. My FMP is a personal investigation which explores the relationship between the Art in Nature using the land, sea and sky to communicate the beauty I see and feel.
Trying to define and neatly put into a box my project has always been challenging for me for me doing my MA was for me and to help me to heal and develop as a person and as a photographer. As a secondary school teacher, I am driven by a passion to teach and one of my main goals is to encourage creativity and enjoyment for the subject. Education is so important, and I want my students to see my work and be inspired by it. This project is for my students and for anyone who wishes to do photography and to encourage them to pick up a camera goes outside and explores. So many times, I see students glued to their phones and missing the world around them and I want to encourage them to stop and look up and appreciate the world we live in. I do class myself as lucky that the area in which I live in is an urban and county side environment. Kent is a county in the South East and is home to places such as Canterbury, Dover, Folkstone, Broadstairs, Margate, Whitstable, Rochester etc. Due to the Coronavirus, it opened my eyes to my local surroundings and how I had so much potential and beauty on my doorstep. Nature is such an immense topic that encompasses of so many things, From the greatest painters of yesterday to artist today, nature has always undeniably proven itself to be most treasured of muses known to man. I decided to use this time to learn about landscape photography and record my response to the area in which I live in. My first step was to understand how Nature has been used in Art and Photography history.
Editing and selecting images outcome.
with the deadline date  I have been completing the FMP by selecting and editing my final 20 images. I have found this a difficult process and felt alone in the situation. I have decided on more than one outcome for my project. The first outcome will be an exhibition at my place of work, which is a local secondary school in the Kent area. Many reasons behind this decision but the main one being the availability of the site, my strong belief that's it's good practice for my students to see my work. Also, from day one of starting my Masters I wanted to hold exhaustion. Due to the coronavirus schools have not been open and now we are on the summer holiday my exhibition will have to wait until the reopening of school. The second outcome will be an online virtual exhibition which I have done before in a previous unit of work. The good things about this are that I can have a selection of sizes of photographs. I have decided that I will be printing off my images. After a long time considering this I felt that nothing feels more satisfying than holding your photograph and seeing the outcome. Seeing your photographs online compared to on paper is such a surreal feeling. Which seems stronger when in the past seeing photographs printed was the only outcome.
Pop up exhibitions
After discussing my project and outcome with a work colleague I have been thinking about exploring pop-up exhaustion outside. I love this idea because I feel it suits my work perfectly being an outdoor theme. A good point my work Colleague said was that I need to think about the backdrop of where I am displaying my work, for example, due to my images being of nature that the backdrop shouldn't be distracting from my work.
Selling my work
I will be continuing to sell my work and have been testing the water with online line sites such as eBay, I'm fully aware this is probably not the best solution. I also have an Etsy store and when all my prints have been selected and mounted I will be uploading them on my store to sell. Also, I have been Constantly updating my web site and will be including access to buy my prints on there too. When life gets back to normal I wish to also continue to attend art craft fairs.
Plans Cornwall Trip
I'm so excited about the future and future projects. I already have my next project on the mind. In a few weeks, I have planned a car trip from Kent to Cornwall and of course, I will be taking the landscape on the way and while there. One place, in particular, I will be visiting is the Barbara Hepworth museum. Since I was studying my BA in Design I wanted to go. Also on the way, I will be stopping at Stonehenge and other amazing places. I think this will be the material for my book which I have always wanted to explore.
Project Brief:
Nature is both all around us and deep within us, we are deeply connected to nature both physically and mentally. The connection between art and Nature has existed since early humans scratched their first drawings onto the walls within caves. As a muse, Mother Nature could not possibly be more inspirational. In my photographs, I try and capture the light within the scenery to create drama and an emotional connection. Light is an aspect that can define both time and emotions. As an Art and Photography Teacher, both topics and very important to me and I cannot help but view the world around me in a different light. This Exhibition is a collection of photographs I have taken for my Final Major Project which is a personal investigation that explores the relationship between Nature and Art using the land, sea and sky for inspiration. My MA in Photography was to help me to rebuild and develop as a person and as well as a photographer. I am driven by a passion to teach and to learn and one of my main goals is to encourage others to be creative and explore the world around them. I do class myself very fortunate that the area in which I live in is both urban and countryside. Kent is a county in the South East and is home to places such as Canterbury, Dover, Folkstone, Broadstairs, Margate, Whitstable and Rochester and due to the Coronavirus, it opened my eyes to my local surroundings, which I have taken for granted and I now appreciate the beauty which is around me. I hope my project, The Art of Nature, Land Sea and Sky demonstrates my love for nature and encourages others to go outside and explore.