Project development: where I document the development of my research project(s) and assignments.
Week 1 Activity: Informing Contexts:
25th January 2019.
I am an Art and Photography teacher but my heart is pulled towards photography more. I ask myself why? When I compare the two mediums which to me are both ways of expressing yourself in a creative way, Art you start with a blank canvas and you have full control over the composition, palette etc while for photography you have the task of taking out the composition and isolating your chosen Platte. Yes, as a photographer you deal with the actual facts compared to a painter, but both can be abstracted art a lot easier. The fact that Barthes presence that act of looking through the lens makes you more aware of ourselves as a viewer is something I can totally relate to myself. Looking through a macro lens you see a whole new world and you are focused to reassess your surrounding in a different perspective. Photography is all about taking fragments off time and selecting what fragment to keep or discard. As photographers, you can tell a story but you can also tell a story which isn't true it is all about the section of timing and interpretation. The detail within an image for me is very important. It is the detail which my image but more so the details which you cannot see with the naked eye.
Up to this point, I feel I have been playing it safe due to my confidence. I feel I am restricted by what I think I should produce and not worrying if I get it wrong. I have to let go of my own barrier I have put up. I recently created an image which I feel is me breaking away from the normal style of work, this was mainly because I have purchased a new lens (CANON MP-e 65mm f2.8 Macro Lens) which I feel has to help me develop a new style of work. I remember that I started off as a black and white photographer and was very scared of colour photography, I felt black and white was playing it safe. Then one day I went out with my camera and visited a garden with the National Trust Scheme and instantly fell in love with flowers. It was something about the variety of shapes, forms and colours that was pulling me in and from that moment I have not gone back to black and white. I think the weakness of my work is that there is a lot of similar images like my own and I constantly so to create something different, this is a very hard this to do. Also, I was so against using Photoshop for editing my images, I felt this was like cheating! I feel I am developing my photoshop skills more and more and I no longer feel like this regarding editing my images. Over this module, I plan to explore the world of colour more within my own practice. I like the concept of how colours are connected to our emotions and how we can react to colour. Colour serves a role or function within a photograph.
After the video research for week 1, I was interested in an image by Saul Leiter Red Ceiling.
https://www.lensculture.com/articles/saul-leiter-saul-leiter-1950-60s-color-and-black-and-white
Historically photography did not begin with the colour process, the earliest examples of photography were some kind of monochrome and are not exactly a true black and white. They had a certain look to them, for example, cyanotypes was a blue process and it wasn't until late with the use of glass plates that there was any kind of process for doing colour work. It is interesting because, in the history of the acceptance of photography as a fine art form, photography had to be in black and white or some kind of monochrome. It was not until the early 1950s when the museum of modern art in New York did a show that featured some colour photographs by Ernst Haas and later on MoMa did a solo show with William Eggleston which is historically significant for being the first one-man show. The reason why this image stood out to me was due to the red monochrome which has inspired me when it comes to my own red flower image. Red is such a dramatic strong colour that I did find it hard to work with in editing.
Week 2 Activity: Further Questions of Authenticity:
1st February 2019
Objective vs Subjective Analysis of Photographs
Within the photographic image, you have objective traits, which are formal elements. This will also include the location, objects. The objective is all positive fracture facts within the image. When analysing photos objectivity, you can break down into sections: Subjective is analyse from the head what cannot be seen, its more about the concept and the thinking side of the image. Subjective analysing is more regarding how the image makes you feel.
https://philosophynow.org/issues/80/Warning_The_Objects_in_the_Photograph_are_not_as_Real_as_they_Appear
Warning: The Objects in the Photograph are not as Real as they Appear Matt Randle warns us about seeing the world through a lens darkly. I have a collection of lenses at home and each one when looks through using my camera give me a different view to the world I see. From the moment I use my camera, I am not seeing the whole truth in front of me. The subject matter I have chosen is the truth and that's only until I start to edit in photoshop. My own practice, I will look for defaults and correct to improve the quality of the image. Does that make my images not real?
Understanding Photographic Representation: Method and Meaning in the Interpretation of Photographs. Gerald John Davey.
In part, this increasingly visually oriented culture is possible because we tend to equate what we see in photographs with what is real. Photographs, however, bring to light a vision of the world, not the world itself.
Understanding Photographic Representation: Method and Meaning in the Interpretation of Photographs: Gerald John Davey University of Iowa
Photography plays an important role in commutating within the world. The camera has become the vehicle for the created image. There are three things that photography can do, shows us what we want to see, show us what we would not see and shows us what we don't want to see. Comparing photography to other commutation it develops the world around us defining what we see, know and understand.
Peculiar Photography:
https://mysteriousuniverse.org/2017/10/more-strange-and-mysterious-photographs-of-unidentified-people/
https://www.scienceandmediamuseum.org.uk/objects-and-stories/history-photography
"Dr Harold Edgerton (1903–1990) is famous for his split-second photographs, which reveal actions that are too fast for the human eye to see.
Edgerton was the first photographer to use stroboscopic lighting to capture rapid movement. He became famous for his dramatic photographs of falling milk drops and speeding bullets. He found that the stroboscope could illuminate a subject through repeated and rapid bursts of light. His photographs presented views of high-speed motion for the first time and became popular with the public"
Nick Knight, Science Museum Group collection
Internationally celebrated British fashion photographer Nick Knight (1958–) is known for his challenges to conventional ideas of beauty and for his work on magazines including British and French Vogue, Dazed and Confused and i-D, He was also the picture editor of the latter title for ten years. Knight has published several books of his photographs and been featured by prestigious institutions including the Victoria and Albert Museum, the Saatchi Gallery, Tate Modern, The Photographers Gallery, the Hayward Gallery and the Natural History Museum. He has produced campaigns for prominent fashion houses including Christian Dior and Yves Saint Laurent. In 2000 he set up the award-winning fashion website SHOW studio. This image, Suzie Smoking, 1988, was shot for the avant-garde Japanese fashion designer Yohji Yamamoto. Featuring the model Suzie Bick, the photograph was exhibited widely, most notably in the 1989 exhibition Out of Fashion at the Photographers Gallery, London.
Week 3 Activity: False Indexes:
8th February 2019.
To me you have two options with it comes to photography, you can either Photograph about something or photograph something. Holly Rose Stones is a fine art, surrealist and conceptual fashion photographer currently based in Kent which is very near to myself who I have been following on social media for a while now. The reason why I love her work so much is that firsts its a different subject matter to myself and more self identify but secondly her photoshop skills. The thing that Holy will do before her photo shoot is planned out what she's going to do. She will have a concept or theme and use props to carry out her ideas.
https://www.hollyrosestones.co.uk/about-holly
Week 4 Presentation: Looking for Signs:
15th February 2019.
When I think of fine art and photography, I instantly think about the formal element's, composition, line, shape, form, texture, pattern, and colour. One thing that should be included is symbolism. Symbols are quite possibly the most powerful tool to use.
What is symbolism? A symbol is something used to represent something else, something meaningful. The most interesting thing about symbolism is that it extends across all forms of art and design. Some symbolism crosses cultural boundaries, and other symbols are only known to the people of a particular culture, living in a particular period of time.
I have been reading a book called Nature and its Symbols. The section in the book that I have more interesting is flowers. The image of flowers has been associated with the notion that life is beautiful and short-lived. I love roses, yellow ones in particular due to a dare memory I have as a child. Roses are a classic symbol of love. The Victorians were very good with the Language of Flowers. It was commonly understood during that period and culture that you could use flowers as symbols as messages to send to people
In Medieval and Renaissance art, you could look at horse within a painting and each cooler would have a different meaning. Pale horses represented death, black horses stood for famine and red horses meant war. Candles tended to represent faith when burning, or death or corruption when painted as extinguished. Baskets of fruit meant abundance, lemons were rare and expensive if they were included in it meant symbolized wealth.
Today we have lost some of the commutation and strength that symbols once had instead we have artistic deciding to make their own meaning with objects, colours and more.
Common Symbols in Modern Photography
Symbolism spans a broad range of not only subjects but colours and other qualities. Within my practice, the meanings of colours are very important to me. This is one type of symbolism that you can use to build on a theme or hint at emotion. Blue, for instance, is a calming spiral colour while red is a hot cold and exciting colour.  Beyond colours, the use of light and shadow can also be symbolic. High contrast images can represent good and evil or day and night etc.
Eyes can suggest windows to the soul, knowledge, creativity or life.
Mountains impart a sense of magnificence.
Rocks and earth tend to give a sense of groundless and balance.
The Sun, energy, heat and power.
These symbols are generalized and as such, are widely recognized across a variety of cultures. Other symbols, however, are most pertinent to the culture that gave rise to them. I have included an image that I come a crossed when looking at Conceptual Photography. Conceptual photography is to illustrate a specific idea.
Austin Gartman — Marking the Days till Freedom
Week 5 Forum: Fascinating Looks:
27th February 2019.
I find my gaze searching for beautiful which isn't always seen or able to see. I often captivated by light and colour and how a subject matter can be transformed by how it is illuminated. This is why I am pulled towards Macro photography, I want to share what I see, that which isn't always noticed. I want my viewer to wonder and question what they are gazing at. Equally, I do like sitting down and watching the world go past, studying people's behaviour and interactions with each other, we live in a world where we compare ourselves to other for some form of acceptance. The people we watch, do we not often wonder what their lives are like compared to our own? Recently I went to Rome and saw homeless people taking shelter and felt myself wanting to take a picture, yet my partner felt this was rude if I had. This question when does a gaze become rude……. when your subconscious takes over. When I think of taking a picture of the homeless person, my viewpoint compared to my partners what had been different, I see hardship and a story where he would have seen something completing different.
Week 5 Activity: Of Mother Nature and Marlboro Men.
22nd February 2019:
I have included an advertising campaign launched in 1999 by Diageo to promote Guinness-brand draught stout in the United Kingdom. The advert was inspired by Walter Crane's 1893 painting "Neptune's Horses".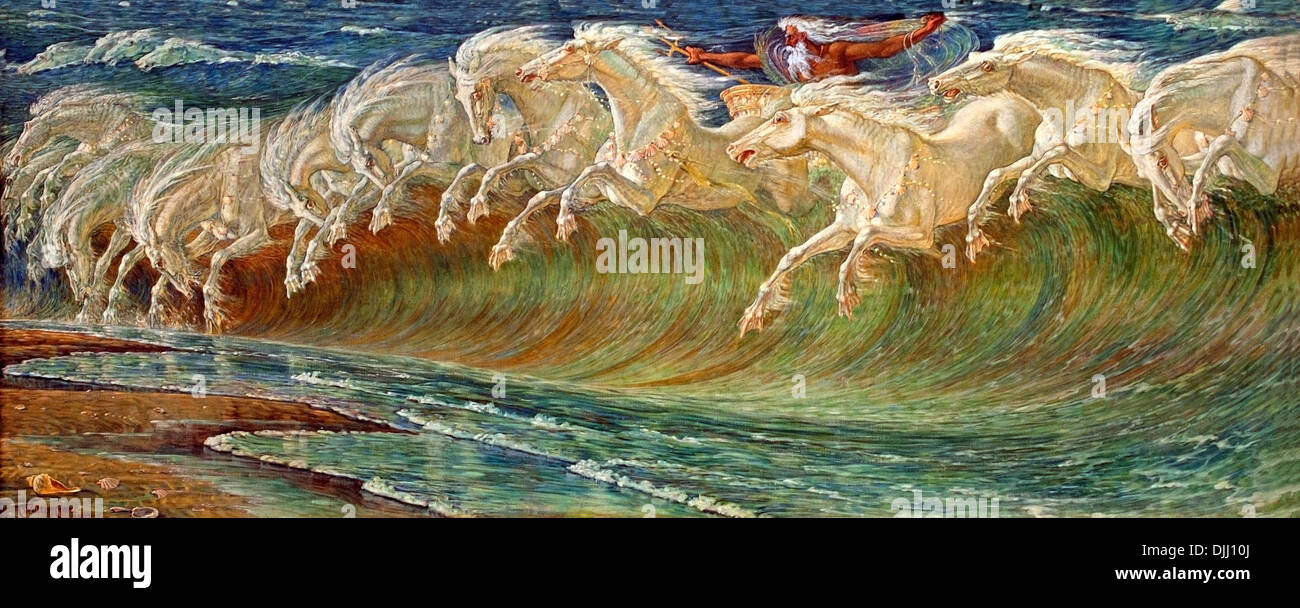 The God Neptune is known for his violent nature, temperament and difficult and somewhat spiteful character, which reflects the nature of the sea, unpredictable of taking and giving life. At the start of the Gunnies advert, you see a Man waiting and gazing, his waiting patiently for his chosen time to challenge and to overpower the sea. I feel the advertisement betrays the identity of nature being controlled by a God and the only man is equal to take part. The music and the black and white images in this advertisement help you gaze and the anticipation heightens. I feel the whole advertisement is gendered towards men and nature being this powerful element that man can challenge, just like a God.
Week 6 Activity: And When I am Formulated, Sprawling on a Pin:
5th March 2019.
I really recommend watching this on YouTube (the quality isn't great but worth watching), loads of interesting point of views regarding photography. I think one element which stands out to me, is a statement by Lewis Wickes Hine (September 26, 1874 – November 3, 1940)
Week 8 Activity: Aesthetic or Anaesthetic:
19th March 2019
have included two links which I have found interesting.
https://www.thesun.co.uk/motors/2740591/23-most-powerful-road-safety-adverts-from-around-the-world/ (Links to an external site.)Links to an external site.
https://www.burtoncopeland.com/news/fatal-consequences-taking-selfies-while-driving (Links to an external site.)Links to an external site.
While at my old school we had visitors come in to talk to year 11 students regarding driving and risks involved. They used real-life experience and examples of images for the shock factor. It actually made me think about my own driving and I do believe that strong messages need to be passed on by strong images.
I do feel the generation is slowing losing their grip with social media and communication in general. I find it amusing when you used to sit and talk to each other and now people are often seen glued to their phones instead of verbal commutation and eye contact. A great example of how tragic the outcome can be is an incident in India when bystander chose to take pictures and selfies instead of helping drying car crash victims.
https://www.thesun.co.uk/news/6772813/selfies-crash-motorbike-victims-india-might-lived/ (Links to an external site.)Links to an external site.
We are surrounded by more and more shocking images which can be absolutely gruesome, but effective? This makes us look at messages at different angles like a driving campaign flipping the audience from driver to another. I don't think this isn't the first time we've seen the safety message aimed not at the driver but at the other person on the other end of the phone. Sending out a message that you can also be responsible if anything happens. A campaign in India is a good example, the message does come across strong and loud. If someone calls me while driving I do make a point of saying call me back when you're not driving.
Social media does have a lot to answer for, one of many latest trends to hit the media is jumping out off a moving car for a music challenge. This challenge had thousands of people recording themselves dancing to rapper Drakes song. We are a growing world driven more and more by the selfies, a random fact I learnt the other day, more people die from selfie relates incidents then shark attacks!!! As the selfie become out biggest predator?
https://www.news18.com/news/movies/kiki-challenge-drake-fan-critically-injured-after-attempting-viral-dance-trend-1831377.html (Links to an external site.)Links to an external site.
Enrico Becker and Matt Harris.
https://www.urdesignmag.com/art/2015/10/01/genetically-modified-fruits-by-enrico-becker-matt-harris/
Two photographers that have used colour to commutate an idea is Enrico Becker and Matt Harris. They have use colour in a playful way and have looked at the future of genetically modified food. Their images show real fruit with monochromatic, pastel tones instead of their natural ones, Example, orange has been painted a pastel blue with a green background making the colours pop out, the fruits have been stamped directly with a barcode, furthering the impression of a potential future of genetically altered foods. I more influenced by contrasting colours and the use the bold backgrounds than with the concept itself but the idea that we are having a massive impact on nature is interesting.
Week 10
On the 23rd March, I visited the new Photography centre at the V&A in London which displayed photography from Daguerreotype to Digital Age. In this collection, you could see how photography had transformed the way in which we document and express the world we see. Early Photography was challenging and time-consuming which needed scientist knowledge and artistic ability. While there was fascinated by stereographs! Two images were merged together creating a three-dimensional illusion. This become very popular in homes in the 1850s I just couldn't believe had not heard of it before. I asked myself how could I create the same effect within images?
Andy Small – Fine Art Photography
I have selected to look at Andy Small due to the genre, Andy is a contemporary colourful, artist, modern macro photography, which is the same as my work. Andy prints his work onto glass and has been used on the backs of kitchens as splashbacks. I love this concept that you're getting benefits with one image, (Opticolour Ltd website)
This is a photograph taken by Ann Belmont of a Tulip from her Tulips collection on https://www.annebelmontphotography.com/p325175017. Ann Belmont genre is nature and flower macro photography.
Ann is an American photographer who works a lot at Chicago Botanic Gardens and is a member of the Out of Chicago photography team. Ann also blogs and writes about her passion for nature and flowers. Ann was art therapy and believes flowers hold healing powers. Ann uses a lens range called lens baby, which is a creative lens with an artistic outcome. The image I selected is of a purple tulip. Purple is a colour which is connected to a magical and rich colour. The background bokeh is smooth and is greens and oranges. The split-complementary colour scheme has been used, with purple being the more dominant colour within the image. This colour scheme has the same strong visual contrast and bold presence. The eye is able to move around the frame but the main focus is the stigma. The purple petals are soft and dreamy and reach out to each corner of the frame helping the eye to flow into the main focus. I like the blocks of purple in the foreground which matches and compliments the purple tulips. The meaning of tulips is generally perfect for love and like many different flowers each colour has a different meaning. different colours of tulips. Purple symbolizes royalty and has been used in art to symbolize fasting, faith and trust. The main formal elements used within this image is colour and form. I believe the message is that of a new beginning standing strong and look at how beautiful I am. I really love this image for many reasons but the use of the colours and off centres of the stigma.
Alan Shapiro:
I like finding and sharing things I find. Beautiful things. Powerful things. Poignant things. I also enjoy taking something ordinary and making it something well beyond that. Illustration and painting are other passions and I love creating unique "painted" photographs and photocomposition.
Wow this photographers work is so unique and different. He's just not a macro photographer but also does portraits, still life, wildlife and much more. The reason I decided to look into this photographer's work was that I loved the monochrome use the green/blue hue. The photograph is shot in portrait with the main focus being the centre of the green leaf plant which is off the centre of the whole frame. Strong details have been used which creates bold lines and form. You can see the line details within the leaf's which flow from the centre to the edge of the frame. Within the image, you also have small detail of red which is using the analogous colour schemes, which is harmonious and pleasing to the eye. The use of turquoise colour is the mixture of both green and blue, this colour is positive and colours which resentments, a healing colour. The colour is beautiful and creates a peaceful mood.
Colour Study:
I couldn't imagine a world without colour and only seeing black and white. Colour is such a powerful element in life and I look towards colour to express how I'm feeling or think. Colour plays a unique way in which we commutate to each other and pass a message forward. I will be researching more into detail into colour and how it can be used to commute, express and inform.
Light is the key source to all colours and colour is a reaction to the eye. Light is energy which carries colour on different waves lengths. Red has the longest wavelength and violet being the shortest. Sir Isaac Newton in 1672, develop a colour theory based on research that a prism decomposes white light into the many colours of the visual spectrum. He was reasonable for connecting that colour was the origin of light. How colour on an object works is that for example, a lemon which appears yellow is actually reflecting yellow off its surface than it actually being yellow and absorbing the other colour waves. Within the colour wheel, we have our three primary colours, yellow, blue and red which are the foundation for all the other colours. When you look at nature the colours orange, green and purple are common within flowers.
With colour you have, hue, value, saturation, tint, Trace, tone, undertone, shade, palette. The basic understanding of the colour so this could be red, orange, yellow, green, blue and purple (black and white). The value is relating to the lightness or darkness of a colour. This will have an impact on the hue. When black is added to the hue this is called shade. If white is added to the hue this is called tint. Light and dark added to the same hue is called medium value. Saturation is a word to describes the intensity and strength of a colour. A trace is a barely a hint of a hue, for example, an apple white. The tone is s a word used when a hue has a slight variation from the hue? Undertone, describes a colour which is underlying within a hue, for example, red in violet. Palette is a group of colours which decides the mood or theme. Analogous colour schemes use colours that are next to each other on the colour wheel. They usually match well and create serene and comfortable designs.
Colour wheel:
The colour wheel is divided into three sections. Primary, secondary and tertiary colours. The colour wheel also can demonstrate the temperature of a colour, for example, hot or cold, warm or cool. The universal understanding of colour is that colours such as red, orange and yellow are warm colours and blue, purples and greens are cool colours. This is due to objects we compare the colour to e.g. the sun is yellow and ice is blue. Colour also has had a different energy, red is seen as more enteric colour and a blue seems to be a calmer colour. All this information is used within art and photography to create intensity and stronger visual impression.  Within my own practice, I have been using a lot of monochromatic, which is the arrangement of the same hue. The monochromatic colour scheme uses variations in lightness and saturation of a single colour. I like this look because it looks clean and elegant. Monochromatic colours go well together, producing a soothing effect which is ideal. The monochromatic scheme is very easy on the eyes, especially with blue or green hues. I like to use it to establish an overall mood. I also find it a very good tool to use to capture the essence and message of the colour.
Other combinations I use with my images are;
Analogous colour schemes are often found in nature and are harmonious and pleasing to the eye.
Complementary colours are opposite each other on the colour wheel are considered to be complementary colours (example: red and green). The high contrast of complementary colours creates a vibrant look, especially when used at full saturation. Complementary colours can be tricky to use in large doses, but I find work well when I want something to stand out. 
The rectangle or tetradic colour scheme uses four colours arranged into two complementary pairs. This rich colour scheme offers plenty of possibilities for variation. The tetradic colour scheme works best with one colour being dominant. 
The split-complementary colour scheme is a variation of the complementary colour scheme. In addition to the base colour, it uses the two colours adjacent to its complement. This colour scheme has the same strong visual contrast as the complementary colour scheme but has less tension.
The square colour scheme is similar to the rectangle, but with all four colours spaced evenly around the colour circle. I found the square colour scheme works best if you let one colour be dominant I do find you have to pay attention to the balance between warm and cool to make this combination work. 
The psychology of colour.
Colour has the power to convey moods and express emotions. Each colour has a meaning for example yellows is connected to the sun which gives us warmth, enjoyments, energy and life. Red is a colour which makes us stop at the traffic lights and could mean danger. Green is connected to nature resulting in safety and mother nature. Colour can also make up react in different ways, can be lucky or unlucky etc. I have included a few examples.
A brilliant website which looks more into Colour Psychology:
https://www.verywellmind.com/color-psychology-2795824
Red:
Red is one of the primary colours, connected to the colour of blood and danger. When it comes to the weight of this colour it stands out and will dominate an image. Red has the power to increase your appetite and pulse rate. We are wired to react to Red by speedy up or stopping dramatically. Red is a heat like fire and is a warm colour. A colour of courage, love, anger and rage. Red also has a sexy passionate side and has the power to turn heads.
Blue:
Blue is one of the primary colours, connected air and sky. The colour is faithful. reflective and calming. It is a colour that is cool and washes away negativity. Blue is connected to wisdom and knowledge. Blue can also be a spiritual and godly colour.
Yellow:
Yellow is a primary colour, connected to energy and warmth like the sun. This lovely vibrant colour symbolises hope, happiness and positivity.
Green:
Green is a secondary colour a mix of yellow and blue. Green is nature and growth a feeling of freshness. Green is connected with fetidity and life. Green is used to calm and good for our soul. Green is used in adverting to reinforce natural and organic.
Orange:
Orange is a secondary colour which is dramatic and seeks attention. Orange is a warm-hearted and fun-loving colour. Orange is the colour of sunset and positive thoughts. Orange is humour, playful and loud.
Purple:
Purple is a secondary colour which is magical and expensive. When I think of purple I think of sophistication, wisdom and knowledge.
Inspired pieces by Alan Shapiro:
26th April 2019